Events
The Homebuying Experience
FAIRWINDS St. Cloud (map it!)
2975 E. Irlo Bronson Memorial Hwy
Kissimmee, FL 34744

Thursday, 4/17/2014
6:00 PM - 7:30 PM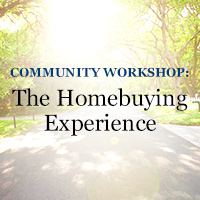 Purchasing a home can be intimidating, especially if you're not familiar with the process. Join us at this complimentary workshop as leading industry experts answer some of the most common homebuyer questions including:
What are some of the minimum qualifications for a mortgage loan?
What role does credit play in the mortgage process?
What is the difference between a pre-qualification and a pre-approval?
Why do I need to work with a REALTOR™?
Guest Speakers Include:
Chrissy Busheme, FAIRWINDS Credit Union
Mary Carr, MarCares Credit Repair
Alex Rodriguez, Prudential Results Realty *Se habla español.
Refreshments will be provided.
Please contact PR@fairwinds.org with any questions about the event.
---
¿Habla español?
Vamos a tener un representante de FAIRWINDS que habla español.
La compra de una casa puede ser intimidante, especialmente si usted no está familiarizado con el proceso. Únete a nosotros como expertos líderes de la industria en este taller gratuito a responder algunas de las preguntas más comunes para compradores de vivienda. Estas preguntas incluyen:
¿Cuáles son algunos de los requisitos mínimos para un préstamo hipotecario?
¿Cuál es la importancia del crédito en el proceso de la hipoteca?
¿Cuál es la diferencia entre una pre-calificación y una pre-aprobación?
¿Por qué tengo que trabajar con un REALTOR?
Se proporcionarán refrigerios. Por favor, póngase en contacto con PR@fairwinds.org con cualquier pregunta sobre el evento.
---
Hot Topics
What is FAIRWINDS' Routing Number?
263181368
What are the 2013 IRA and HSA contribution limits?
When will I receive my 2012 5498 form?