Events
KinderCare Donations
FAIRWINDS Credit Union locations

Saturday, 5/31/2014


All our thoughts and prayers continue to flow to those affected by the recent tragedy. KinderCare is working with every family directly affected and offering support to those families in a number of ways.
So many have asked how they can help, in addition to what the company is doing. In response to your many inquiries, KinderCare has set up a relief account with FAIRWINDS Credit Union, which you can contribute to here. All contributions to this account will be distributed to families whose children were injured.
You can donate to the relief fund:
In Person: At any Central Florida FAIRWINDS Credit Union location. Visit fairwinds.org/locations to find the location nearest you.


Online: Click the Donate button below, or click here to pay with a credit card or PayPal account.

Mail a Check: Make the check payable to FAIRWINDS Credit Union. In the Memo Line, write KinderCare Donation. It is EXTREMELY important to follow these instructions to make sure your donation is deposited into the correct account.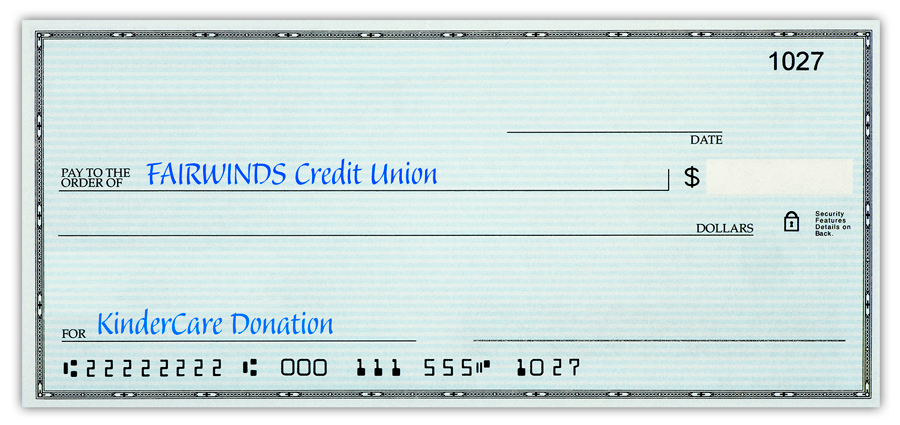 Mail the check to:
FAIRWINDS Credit Union
3087 N. Alafaya Trail
Orlando, FL 32826
Donations will be accepted now through May 31, 2014.
Please contact PR@fairwinds.org with any questions.
Hot Topics
What is FAIRWINDS' Routing Number?
263181368
What are the 2013 IRA and HSA contribution limits?
When will I receive my 2012 5498 form?